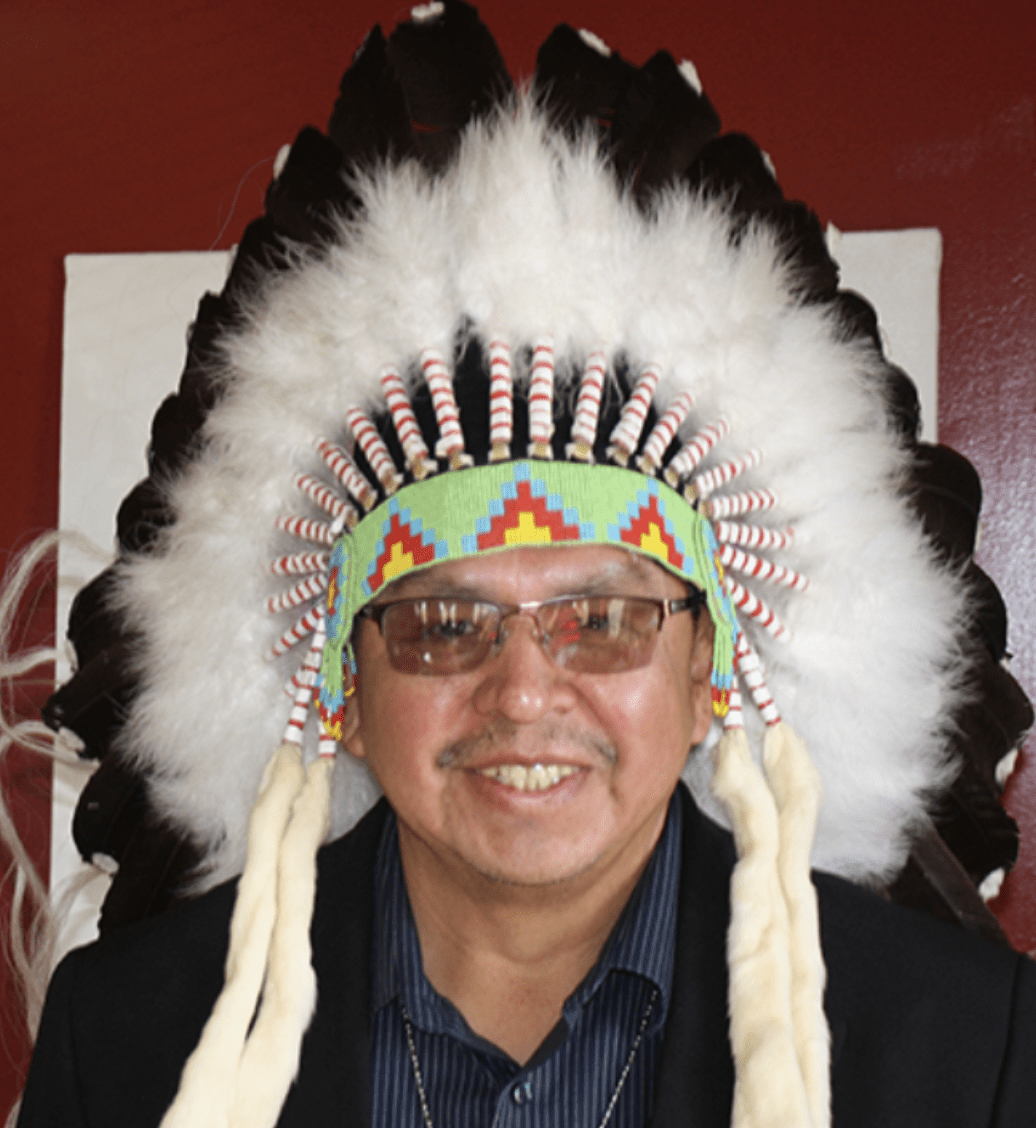 Anin Sikwa Cote First Nation
On behalf of the membership of Cote First Nation in Treaty 4 Territory; I bring you greetings from the governance leadership. The past term has been challenging and I thank the Elders, Council, Staff, and Membership for their input and the work we are all doing to move forward.  Being re-elected has given me the opportunity to continue on with the vision I have to prepare a promising future for our next generations. 
With the recommendations of the Community Comprehensive Plan done by the Membership, we have been working on a plan of action to meet the needs of our Nation. One of the main issues is Governance based on the Treaty and Inheritance rights for Cote First Nation; we are preparing a constitution and amendments to the election act to allow us to govern our own land which is being ratified by our membership. 
I am a strong supporter of protection for our Treaty rights and to ensure the Queen exercises the promises made to our Nation through the Government of Canada. I have confidence in our Elders, children, leaders, staff, and membership both on and off reserve that we shall be restored as a united nation. Thankful for al the prayers and ceremonies to bring this to pass. 
Our planning includes: housing renovations and new housing; infrastructure improvements with our Capital projects which has provided employment and economic development; youth development from our youth workers who are doing a great job; education is to include our history of Cote First Nation through culture and language; health and safety of our members with new programs in the future to help our the issues of mental health; upgrades on the technology in our offices and school and other departments to be more efficient to our membership. The landfill will be decommissioned to make room for our new transfer station which will be environmentally safe. I am thankful for the staff of Capital and Housing for cleaning up the sites of old buildings, the roads and grass cutting. All the training which was done for fire fighters, security, A1 drivers, summer student employment, and future programs coming for community improvements. There is some good work coming forth from all the portfolio council and staff which is carried on from past leadership. 
We have four land claims and one agricultural claim in negotiation; and hopefully these will be settled soon with an offer to be approved by the membership. There is a plan of action on how these claims will be utilized based on the surveys. For example, housing, purchasing land, new rink, new governance centre, farming our own land, language and culture, infrastructure, elders lodge, and youth development. This plan will be presented to the membership to get further input and approval. Lot of good work being done and restructuring of our Governance and Administration to provide more opportunities of employment and training. 
I would like to thank past leadership for their guidance, the present council for working together and moving forward, the Elders of our community are a blessing that provide us with guidance, our youth who give us hope through sports and education and the many great workers and volunteers, for their work and dedication. I also want to acknowledge our Cote Market management and staff for providing a service to our community, providing employment opportunities to our community members and for continuing our future economic growth.
I would like to commend our membership for the way they came together and protect our own community through this Covid 19. Thank you for the prayers and challenges we been through, to come together.
In closing, in protection of our Treaties with a constitution based on our own laws of the land, our Nation will have a governance structure to assist our future leaders to lead our Nation into restoration and prosperity. Cote First Nation has great resources in our own people of all ages both on and off reserve. Let's make it work together, in unity and not in division. It takes a community to raise a child. We can do this and in prayer we thank the Creator for all He provides. 
Chief George Cote
Boards/Commissions/Committee's Representation are:
• Ex-officio on all Cote First Nation Boards, Committees and Portfolio's
• Yorkton Tribal Council Health Commission
• Federation of Sovereign Indigenous Nations Health Commission
• Treaty 4 Education Alliance
• FSIN Indian Gaming Regulators
• Yorkton Tribal Council Indian Child & Family Services
• White Buffalo Youth Treatment LodgeBoards/Commissions/Committee's Representation are:
• Yorkton Parkland Housing
• Yorkton Tribal Council Justice Commission
I was raised by my grandparents Leonard and Mable Cote. I am a graduate of Chief Gabriel Cote Education Complex in 1999. I was employed first by Cote First Nation in 2002 and a Night Watchman until 2007. I entered politics by running for Council unsuccessfully in 2007 and 2010. I was finally successful elected in 2013 and re-elected in 2016. I work with youth sports and community events. I am involved with the Justice portfolio for the first time this term. I held the Recreation portfolio from 2013-2016 and relieved myself of the portfolio to find a new direction in another portfolio. I love my community and I live and breathe Cote First Nation.
Boards/Commissions/Committee's Representation are:
• Yorkton Parkland Housing
• Yorkton Tribal Council Justice Commission
Boards/Commissions/Committee's Representation are:
• Youth Committee
• Buffalo Project
Anin swikwa Kinawa, my name is Darrel Langan my parents are Henry Josph Langan and Marion Langan(nee Pelly). Born and raised on Cote First Nation I am married for 20 years to my lovely wife Enola Friday and with my son Vandel Friday My Grand parents' are John, Mary Pelly.
I've been on pass council for my nation, my involvement with Pelly Haylands' negotiations and Onekwak Land negotiation and more recently I am a trade person in the field of Plumbing on residential, commercial and Industrial field where I been working at it over the past 20 years.
I am honoured to serve my community, I value their input and trust, to bring forth their concerns and to look after the best interest if the Cote First Nation on all levels of governments. The values' of my late Father instilled on me. In regards to our first and first most is the Spiritually And the Blessing we receive each and everyday and to be thankful for All we receive and to work hard no what the task.
Education is the one of the most important tools we as First Nations people need to use for the betterment of the people and our community as a whole.
Respectfully,
Kichi Megwetch…
Councilor Darrel Langan
Boards/Commissions/Committee's Representation are:
• Painted Hand Corporation Holdings
• Yorkton Tribal Council Housing Commission
Hi my name is Delvina Whitehawk, I will start by saying I am honored to become a leader here on our First Nation. Thank you for giving me this amazing opportunity. My parents are Clifford M Whitehawk Jr. and the Late Mabel V. Whitehawk. I grew up on Cote First Nation, and received my grade 12 diploma here at CGCEC in 1992. I have 3 amazing children, have been married for 28 years and I have 2 beautiful grandchildren.
I moved away to attend university for my business administration, I went 2 years and stopped there once I completed my Management Diploma and went to work from there. I've worked in many different fields such as finance, management, and many other administrative positions. I moved around to accommodate positions.
My husband and I started our own construction business, it has been an up and down hill but are always up for the challenges and jobs we take on, we slowed it down, since we moved back to our communities but still enjoy the contracts we land.
My most recent position was career coach, which I enjoyed very much working with our young adults, being a driving force, pushing them to be all they can be.I am now the Education portfolio councillor and I feel the position is just as rewarding as the career coach I still work with our young adults and still push them to go into post secondary trades skills and work employment. I am a strong believer that education will take us all to a better brighter future where we can all live as equals and thrive in a happy healthy environment. I know it will take time and commitment and I am here to help our Nation move forward!
Hello! My name is Jaret Stevenson, I grew up on Cote First Nation. My fathers name was Bryan Shingoose (Law) and my mothers name was Delores Stevenson. My wife's name is Rachel Keshane and together we have five (5) children; Jaret, Jenaya, Brody, Bryan and Jade.
Prior to becoming a Councillor, I graduated grade 12 from CGCEC. While going to school I worked at the cote band store. After graduation I moved onto become a youth worker at the Pi-Kiwek Cote Group home. I worked there for 13 years.
Throughout all my life I have been sport orientated. I believe sports can help youth and young adults to maintain a healthy and positive lifestyle. I been involved in sports with youth for many many years. I enjoy doing this because I want to help them make a difference in their own lives.
As an elected official, I make myself available to membership. I am there for the people to voice their concerns and not only voice their concerns, but to act on them, as well. The portfolios that I am involved with are health, justice and recreation.
Boards/Commissions/Committee's Representation are:
– Painted Hand Community Development Corporation
– Pikiwek Group Home
I have a wife of 22 years. We got 3 beautiful kids Cross, Heaven and Angel. I have a completed Grade 12 and have also finished the CSO Program at S.I.A.S.T in Prince Albert. I have worked security at the Prince Albert Inn for about 5 years before I came home to be security for three years on Cote. I own my house in Prince Albert that I purchased with my residential school payout.
I hope to see our nation get jobs and stop this drug problem, we got with needles and crystal meth.  I would also like to see more functions in the community so people can start healing together!
Boards/Commissions/Committee's Representation are:
– Chair of Justice, Education, Capitol, Finance and Oil & Gas.
Anin Sikwa, I would like to welcome everyone. My name is Pamela Whitehawk. I am currently serving my second term in office as an elected leader in the community. I am honoured and privileged to serve our community. I would like to thank our community members for believing and having faith in me to carry out my duties in office. I worked hard towards completing my Degree in 2007 with a Bachelor of Arts majoring in Indigenous Studies with minor in Business Administration.
Boards/Commissions/Committee's Representation are:
Economic Development & Elders portfolio
YTC Treasury Board
Saulteaux Pelly Agency
Cote Development LTD. (Ex officio) 
My wife is Eunice Ketechmonia-Cote. My daughters are Farrah Pelly (grandchildren are Courage, Precious and Michale), Heather Ketchemonia married to Amos McArthur (grandchildren are Harmony and Havana) and Brittney Ketchemonia (grandchildren are Storm and Summer Rain).
I lived on Keeseekoose First Nation for the 38 years. I am drug and alcohol free for the last 22 years. I am a non-smoker of tobacco and marijuana for life.
I have always worked for the Band in some capacity since age 17. I was a bus driver for 34 years and afterwards was a bus contractor for 16 years. I have been on Council for 14 years. I represented Cote in hockey and fastball for 30 years. I ran a very successful Stables. Ketchemonia-Cote Stables was #1 in Canada. I was a horse trainer for 23 years.
I saw this quote from late Gordon Tootoosis, "LEADERSHIP IS ABOUT SUBMISSION TO DUTY, NOT ELEVATION TO POWER" and strongly have that belief, still today.
I have always strived for accountability and transparency. I have always wanted a forensic. I have always wanted people to be empowered. I have always wanted the people to know, "THE PEOPLE ARE THE POWER". I always went against greed and corruption. I strongly believe that Chief and Council should not benefit in any material things from band monies and should always be for membership. I strongly believe ALL MONIES (own source and band funds) and ALL LEDGERS should be openly known to membership for all to see. EVERY CHEQUE TO CHIEF AND COUNCIL SHOULD BE POSTED. The membership ought to know where and how much money the leadership is receiving (not only in audits) because not all money is audited.
Boards/Commissions/Committee's Representation are:
Anin sakwe
My name is Robert Severight, I'm the grandson of Roy Severight and Doris Severight- Quewezance my mother is the late Elrose Severight and Robert Flores.  I am happily married to Shelley cote we've been together for 25 years with 4 children, Tiana 21, Tanisha 18, talon 15, and Treaune 10.
For most of my life I was raised in the cities, but always came home to participate in the traditional events. I was always raised to believe in our traditional ceremonies and traditional teachings. I raised my kids the same manners.
I moved back into the community from Regina 10 years now while living in the city I had many jobs me and my wife have always worked.   Helping in any which way I could working with the youth, primarily cultural and traditional teachings, singing dancing, etc.  I lead a healthy lifestyle sustaining from drugs and alcohol.  Both my wife and I.
We raised our children in an alcohol and drug free home. We tried to lead by example.
My wife and I are both hard working and honest people. We try to help when people ask in any of which way we can. 
It is truly an honor to be have been elected onto council to serve the people, on and off reserve, I take my job as a leader very seriously, and I am honest and fair, approachable.  I'm very happy with the direction that the new chief and council are proceeding.  And I look forward to working with my fellow councillors and all band staff, I see nothing but good things for Cote First Nation's future and I will do my best to make Cote First Nation's members proud to be from Cote again. 
As a newly elected councillor of Cote First nation, Trevor Severight sits on the Housing, Health, Lands, Economic Development and Capital portfolios. He was born to his late mother Lorena Severight in Winnipeg, MB. During his life growing up he did a lot of moving around. It was tough growing up as a child living poor and in an alcoholic and abusive home. Later, he was placed in foster homes after he lost his mother. He was raised by his uncle Darryl Cote, a former leader of the Cote First Nation. His uncle was tough but a fair man. Growing up on a cattle farm where every day was a learning day. It was really hard work Trever says but it prepared him for the outside world.
He went to school in Norquay, SK. Eventually got work running heavy equipment. This experience paved the road to construction jobs. He is good at working in this sector.
Trevor is a father of four girls and a very proud daddy. Being a leader on Cote has been a huge change in this life. Working for the people and helping his community is a real humbling experience for him. his beliefs are treating people fairly and having accountability, working hard to change his community into a positive place. Together we are working on some bug plans for the future and hope to make these plans a reality, so Cote First Nation can grow into prosperity.
I am a single dad to six (6) children; Amber, Mikey, Tyrone Jr., Vance, Ty Jr. and Bowe. My grandparents are Jean and Joe Keshane of Keeseekoose First Nation and late Emily "Cookie" Cote of Cote First Nation. I've been a traditional powwow singer for 28 years of my life. I was raised with respect. I am honest, loyal and a friendly person and proud to be from Cote First Nation.